New to the site?
We organise midweek health walks around 3 miles in length and easy and fortnightly Saturday walks between 6 and 7 miles which can be easy and or moderate.
For details of meeting point and postcode of the walk you wish to join us on a minimum 24 hours before the the start, a one off £3 registration fee applies.
Please Bring a Packed Lunch and Drink (except Wednesdays)
Please Note: YOU WALK AT YOUR OWN RISK
_______________________________________________
Membership Only £3
Upcoming Walks
Wednesday 1 December 2021
Health walk - 3 miles
Thursday 2 December 2021
Elsecar Greenway - 6 miles
Wednesday 8 December 2021
Health walk - 3 miles
Saturday 11 December 2021
Five Weirs - 6 miles
Upcoming Walks:
All Walks Are Easy or Moderate
EVERY Wednesday - Chapeltown Health walk - 3 to 4 miles
Saturday Walks are approx 6 miles and are moderate
Social Events
Exclusive to our registered members
We source out and subsidise great deals for social events anything from meals out, Ten Pin Bowling, Murder Mysteries, Live Entertainment, Casino nights, Yorkshire Wildlife Park, Days out in York, Whitby, Flamborough & Llandudno, Ghost walks, Crown Green bowling, Yorkshire Mining Museum, The Deep in Hull, Disco themed nights to weekends away where we have 3 walks of suitability each day from Easy, Moderate and Strenurous, so there is something for eveyone.
Over the years we have had some fantastic group holiday too, no more paying out for expensive singles holidays and all with the option of planned walks, or for our members just to relax and enjoy the sun, countries visited by our shamblers on tour include Turkey, Tunisia, Egypt, Greece and Gran Canaria.
Socials held in 2019 included
Valentines night with comedy and dancing
Cinema evening
A Weekend away in The Dales
Theatre trip
Quiz night
Italian evening
Seaside trip
Panto
Christmas Dinner & Dance
Queen night & more .........................
Socials for 2020 already include
An Indian Buffet with entertainment
A holiday in Wales
Bowling evening
Christmas Party
Kelham Shamble-Ale
Details of our events can be found on our forum once you have formally joined us.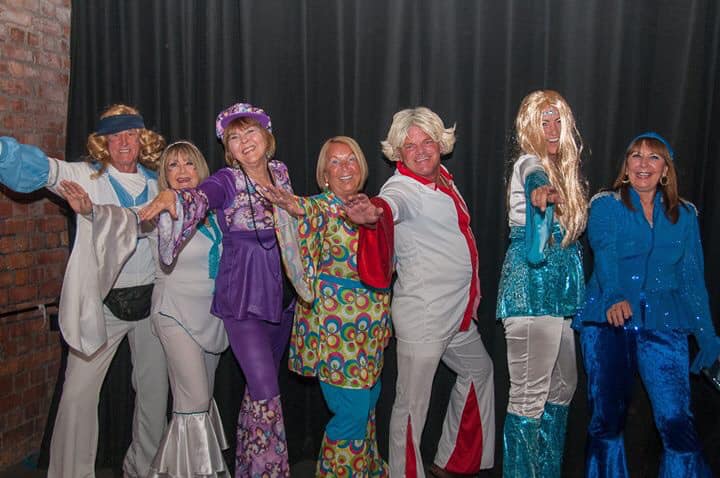 Mamma Mia Mania !
Shambling Around Underground
Why not join us?
A one off £3 joining fee on your first walk is all it costs, after this all walks are free, you remain a member as long as you attend a walk within a 3 month period.
On each walk we have an optional £1 50/50 raffle draw this enables us to get a few funds so we can subsidise socials and trips as well as maintain this website and our indemnity insurance. Again its optional. everyone associated with the planning and running of The Shamblers and all our walk leaders are dedicated volunteers.