New to the site?
We organise midweek health walks around 3 miles in length and eassy and Fortnightly Saturday walks between 6 and 7 miles which can be easy and or moderate.
NEW SENSIBLE SUNDAY WALKS FOR 2019
THE POPULAR THURSDAY EVENING WALKS BEGIN MAY 2019
For details of meeting point and postcode of the walk you wish to join us on a minimum 24 hours before the the start, a one off £3 registration fee applies.
Please Bring a Packed Lunch and Drink (except Wednesdays)
Please Note: YOU WALK AT YOUR OWN RISK
_______________________________________________
Membership Only £3
Upcoming Walks
Chapeltown Health Walk
EVERY Wednesday
Difficulty: - EASY - 3 to 4 miles
Duration: - 1 hour 45 min aprox
Start Time: - 10:30 am
Meeting Point - Chapeltown Library - S35 1AE
Description: - Weekly Health Walk in and around Chapeltown always starting from the Library, done at a relaxed pace walking at the pace of the slowest walker, these walks are ideal for anyone, a good sense of humour is all that is required, the walk ends at Wetherspoons where you can get a bottomless mug of coffee while we put the world to rights.
** New Members/Old Members Just turn up 10 mins before **
_________________________________________________
Wentworth Castle
Saturday 17 August
Difficulty: EASY
Length: 6 miles
Duration: 3.5 hours
Start Time: 11 am
Description: -
The route is lovely and takes us along the Dove Valley Trail to Wentworth Castle, through Broom Royd Wood and by Worsborough Reservoir back to the start.The terrain is mainly flat, a disused railway line, and woodland footpaths. There is a cafe and toilet at Wigfield Farm.
We often have people ask us whats the difference between Wentworth woodhouse and Wentworth Castle?
Come along and you'll find out.
** New Members/Old Members. Contact at least 24 hours before for meeting point **
_________________________________________________
Parkwood Springs
Thursday 22 August - EVENING
Difficulty: - EASY/MODERATE - 4 miles
Duration: - 2 hrs
Start Time: - 7:00 pm
Description: A steady climb up Rutland Road will bring us to Parkwood Springs, an amazing natural 'wild' space close to the centre of the city where there are spectacular views over the city centre, the suburbs and the distant moors of the Peak District.
We then head downhill to Wardsend Cemetery, a Victorian cemetery which is really a detached churchyard, it was opened on 21st June 1857 as the burial ground for St. Philip's Church on Infirmary Road (now demolished).
Following the River Don on our return to The Garderners Rest for a drink,
** New Members/Old Members. Contact at least 24 hours before for meeting point **
_________________________________________________
Totley Toddle
Saturday 31 August
Difficulty: - Moderate - 6 miles
Duration: - 3 hrs
Start Time: - 11:00 am
Description: - A walk through country lanes and woods, with great views of Totley. We walk through Gillfield Wood, where we will also stop for lunch. A peaceful wood sitting on the edge of Sheffield, close to the Peak District. The wood runs alongside a brook and is crossed by a number of footpaths. There are two stiles on this walk.
** New Members/Old Members. Contact at least 24 hours before for meeting point **
_________________________________________________
Upcoming Walks:
All Walks Are Easy or Moderate
September

EVERY Wednesday - Chapeltown Health walk - 3 to 4 miles
Sunday 8th - Old Moor/Adwick - 7.5 miles
Saturday 14th - Wentworth Follies - 7 miles
Saturday 28th - Thorp Salvin/Harthill - 7 miles



Social Events
Exclusive to our registered members
We source out and subsidise great deals for social events anything from meals out, Ten Pin Bowling, Murder Mysteries, Live Entertainment, Casino nights, Yorkshire Wildlife Park, Days out in York, Whitby, Flamborough & Llandudno, Ghost walks, Crown Green bowling, Yorkshire Mining Museum, The Deep in Hull, Disco themed nights to weekends away where we have 3 walks of suitability each day from Easy, Moderate and Strenurous, so there is something for eveyone.
Over the years we have had some fantastic group holiday too, no more paying out for expensive singles holidays and all with the option of planned walks, or for our members just to relax and enjoy the sun, countries visited by our shamblers on tour include Turkey, Tunisia, Egypt, Greece and Gran Canaria.
Planned socials for 2019 include
Valentines night with comedy and dancing
Cinema evening
A Weekend away in The Dales
Theatre trip
Quiz night
Italian evening
Seaside trip
Queen night & more .........................
Details of our events can be found on our forum once you have formally joined us.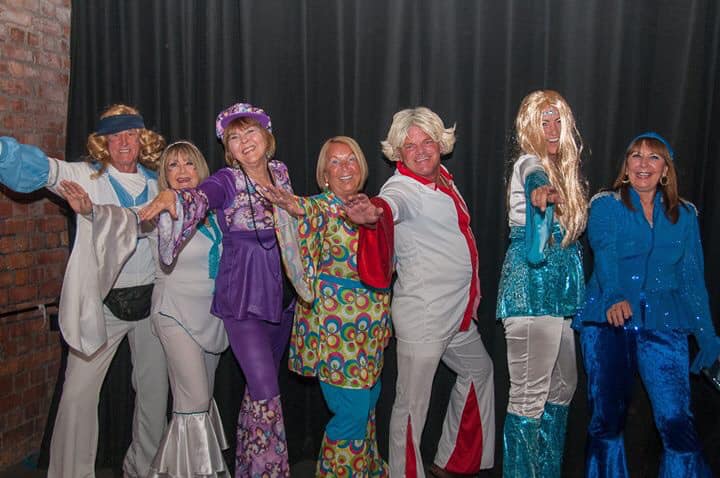 Mamma Mia Mania !
Shambling Around Underground
Why not join us?
A one off £3 joining fee on your first walk is all it costs, after this all walks are free, you remain a member as long as you attend a walk within a 3 month period.
On each walk we have an optional £1 50/50 raffle draw this enables us to get a few funds so we can subsidise socials and trips as well as maintain this website and our indemnity insurance. Again its optional. everyone associated with the planning and running of The Shamblers and all our walk leaders are dedicated volunteers.